Mechanic thoughts needed ASAP!! Please
12-31-2018, 03:30 PM
Newbie - Just Registered
Join Date: Dec 2018
Location: Tampa florida
Posts: 2
Mechanic thoughts needed ASAP!! Please
---
Hi! Iím new new new to the web site! I wanna start off by saying 1997 Nissan Maxima gle with sunroof is my favorite car of all time no way I would ever fall in love with another vehicle no matter the circumstances Iím going thru hell with this Maxima I have from oil leaks to knocking noises I would glad appreciate if some one could help me on this issue link is here....
12-31-2018, 04:30 PM
Senior Member
Join Date: Jan 2011
Location: Central AR
Posts: 2,947
How many miles?
How long have you owned the car?
Does the noise primarily occur when the engine is cold?
It sounds like there may be multiple issues at play here.
Do you have a garage (place to work) and tools to take on a significant engine work project?
If you can stop by a part store and get a mechanic's stethoscope, you can probe around the engine to zero in on the noise source.
Check out the before and after videos when I had a timing chain tensioner problem. If it turns out that you have a tensioner problem, you are in luck, the 97-99 models easier to fix.
Before tensioner fix with a Cold Start
After tensioner fix with a Cold Start
12-31-2018, 09:47 PM
Senior Member
Join Date: Jan 2011
Location: Central AR
Posts: 2,947
Here's a thread with a write up on how to change the tensioner. You need a tensioner AND the gasket that was part of a later Technical Service Bulletin. Pictures with part numbers are in the thread.
-
https://maxima.org/forums/4th-genera...ransplant.html
You DO NOT need to remove the timing cover to change the tensioner on a 97 model.
Be sure to turn the crankshaft backward a slight amount (e.g. just enough) to cause some chain slack to happen with the tensioner. It makes removing and reinstalling the tensioner much safer when there is enough chain slack to give you some wiggle room when removing the tensioner.
---
Last edited by CS_AR; 12-31-2018 at

09:52 PM

.
12-31-2018, 09:58 PM
Super Moderator
Join Date: Feb 2002
Location: Southern California
Posts: 15,547
You've created 6 threads on the same subject and are cross posting all over the ORG, then proceeded to delete 3 of them. This is your 6th thread on the same subject, all in the same day. Please refrain from creating and deleting threads in the future, and cross posting everywhere.
Not sure how this could be any clearer
Welcome to the Org, please read before you post...
---
Last edited by The Wizard; 12-31-2018 at

10:19 PM

.
01-02-2019, 07:25 PM
Senior Member
Join Date: Jan 2006
Location: Fuk 301 it's 410 Bal Md black/purple.
Posts: 1,737
This is exactly like what my quest sounds like. This would be a timing chain tensioner related issue. I would check the a/c commpressor they can sound like this when they're really going bad. Let us know keep us posted.
01-02-2019, 10:42 PM
Senior Member
Join Date: Jan 2011
Location: Central AR
Posts: 2,947
It would still be helpful to know the mileage and for you to get a mechanics stethoscope and probe aro9und the engine to determine if the noise is coming from behind the timing cover. If you are experiencing timing chain slap from a work out tensioner, the chain will be slapping against the upper center guide in the picture below.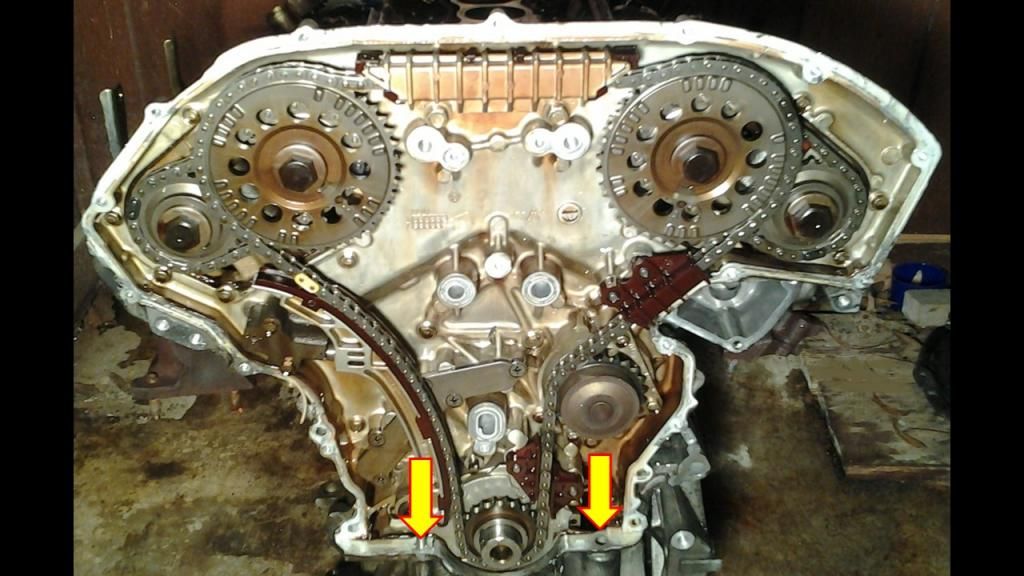 ​​​​​​​
01-04-2019, 03:44 PM
Super Moderator
Join Date: Feb 2002
Location: Southern California
Posts: 15,547