5th Gen Maxima Chumpcar Build
01-05-2016, 07:08 PM
5th Gen Maxima Chumpcar Build
---
Hello everyone, first off thank you to everyone on this site. It has been a great source of information.
We're just a small team of three guys who enjoy endurance racing (
Bromance Racing)
. Late in 2014 we found a 4 cylinder mustang and got it ready to race in in 2015. Our first race was a Chumpcar event at Road America. While we had fun, we quickly found that our engine was very under powered. So for the next race I found and rebuilt a 5.0 v8. In the next race we did much better, we ending up finishing in the top half of the finishing order at our only "24 hours of lemons". Our third race was at BIR in Minnesota, we were holding our own until we broke a rear brake line with about 3-4 hours left in the race. Our last race was at Road America again, but this time we had a much larger engine. Near the end of day 1, we broke our Transmission. Luckily we had a spare that actually ending up being better then our primary transmission. Day 2 went off with any issues and we had a great time. In our
last race I was able to live stream
from the car. I plan to do that for the all of our events next year.
This time around I want to do a better job of documenting the build. I'll be posting our progress in this forum.
I'll also be asking a bunch of questions and asking for suggestions here as well. Like for example, I have been saving all of our good parts, would it be worth it to sell them on ebay or in the classified section here? The motor is another area where I'll be asking question, it's a lot different then the v8 engines I am used to working on and rebuilding. While I'm not worried about the mechanical side, it's the world of ECU's and tuning that is new to me.
---------------------------------
Ok, on to the car!
We picked up the
MINT
2002 Maxima last week. It has about 120,000 miles and features a 6 speed manual, which we are fairly sure it has limited slip.
The garage is a bit tight with the Cobra in the other stall.
Justin is removing parts from the dash. Most of it went well, we did get stuck on the airbag cover on the passenger side. "That bastard is in there!"
The trunk would not open so I was volunteered to climb in from the back seat and pull the abduction leaver.
I have heard about how tearing apart a car can feel like an archaeological dig. You will find all sorts of stuff! After removing a few panels from the trunk we found this CD that summed up my trunk experience "the Great Escape Artist".
I removed the engine cover, battery and after market intake so I could inspect the motor and transmission a bit more. As of right now, our plan is to leave the motor/transmission in for the first race. In the spring we'll be renting the local speedway to give the car a proper shake down. We'll know a bunch more after that!
At the end of our night, we made some good progress.
Night 2 started off finding more artifacts. You could say we are working on our Night Moves!
We only got a couple of hours in on night 2, but we made some good progress.
That's all the progress for now, I'll be posting more as we work on it!
--------------------
Just for kicks, here is a shot of our last car at Road America!
---
Last edited by Mike - Bromance Racing; 01-18-2016 at

08:58 AM

.
01-05-2016, 09:00 PM
As far as tuning goes it depends on what your needs are. If staying n/a 350z utec with tuner wideband is a great choice. Matter of fact it's great, cheap, and reliable for fi also. You'll need a patch harness in order to make the connections. There's a great member Suratt on this site that makes said harness. You can pick up both computers on eBay for cheap. This allows open/closed loop fuel and timing control plus a lot more. It pretty simple to figure out and plugs into a laptop. Make sure you get the tsx tuner wideband with it so you'll be able to log a/f ratio on the same screen.
01-08-2016, 08:57 PM
Thank you Mattx, great suggestion on the wideband. I have looked it up and I think it is exactly what we need.
Tonight we striped a ton more out of the car. I worked front end of the car, removing many odds and ends including the AC radiator, and I installed the hood pins (they were left over parts from my cobra build - score!). Justin worked on removing more of the interior bits. Something fun we noticed was the box around the key hole on the steering column, it needs to be near the key in order to start the car, ha!
Our parts pile is quite huge, I should get a post started in the classified area soon.
---
Last edited by Mike - Bromance Racing; 01-08-2016 at

09:02 PM

.
01-11-2016, 12:29 AM
I finally found this thread. This looks very exciting. Just curious though - are hood pins required? I was wondering why you chose to include them. Not sure if you planned to remove the original hood latch or what.
01-11-2016, 09:43 AM
"I finally found this thread." Ha, I didn't know we were hiding! LOL! As for the hood pins that is not necessary (
according to the rules
), but makes it easy for us to work on the engine in the pits or safety works to get into the hood if they need to put out a fire.
Ha, while turbo sounds fun. Chumpcar and 24 hours of lemons are designed to be a low cost series and since we are building primarily for chumpcar, we have to follow their rules. They really hit you on points if you add a turbocharger or supercharger. The car value needs to be under $500. And for every $10 they judge you over that cost, they start to -1 laps at the start of the race. So, if your car is valued at $700, that = $200 over and -20 laps at the start of the race.
Turbochargers and Superchargers shall be valued in points at the ratio of 1:1 (dollar-to-point) based on the average of four NEW retail prices found on the Internet for the unit or assembly AND the average of the lowest four (4) USED retail prices for A-rated units or assemblies as found on CAR-PART.COM.
07-01-2016, 09:05 AM
I should create a more detailed update. Because we made our race at Road America and the car was amazing! Unfortunately when we got home the transmission got stuck in 3rd gear and will not come out!?
Here are some photos from the weekend. Enjoy!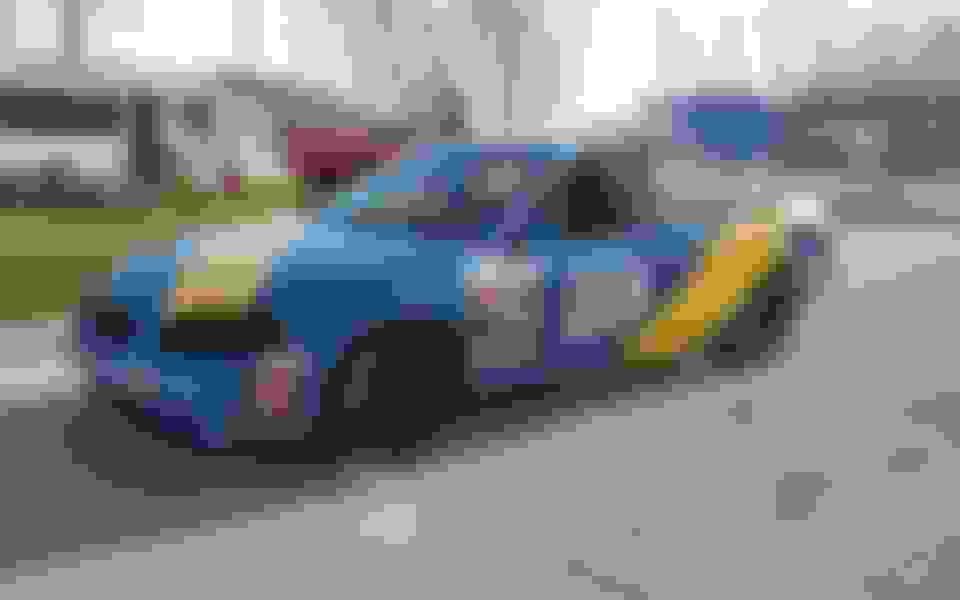 07-07-2016, 02:02 AM
SMH, I had only first found this car from the recent pictures section and couldn't seem to find the thread they were posted in.

Car looks great though! Did you guys get any videos? Hopefully you get the transmission worked out. It seems like stuff always seems to break during events, so at least it waited until home.
07-08-2016, 07:07 AM
Originally Posted by
Cotozic
SMH, I had only first found this car from the recent pictures section and couldn't seem to find the thread they were posted in.

Car looks great though! Did you guys get any videos? Hopefully you get the transmission worked out. It seems like stuff always seems to break during events, so at least it waited until home.
We have some video still on the net, we live streamed from the car during the race. I have downloaded all of it and I'll upload it (someday). But for now you can still watch some of it on UStream. http://www.ustream.tv/recorded/85774327
We got the motor and trans out last weekend. User "6spd_Hayes" has been awesome helping us out on another post with fixing the transmission.
04-11-2017, 09:55 AM
Thanks
6spd_Hayes
! And we'll be putting your transmission article to good use this summer!!!
For our 2nd race we made it to Road America, but the engine let go after about 2.5hrs. Not bad for an untouched engine with 150,000 miles!
The track photos are followed by shots of our new motor and engine swap. We're getting ready for the Road America spring race next!
Getting ready for the race on Friday
Motor was done. 2.5hrs into first day
Months later! New motor arrives in the mail
Working to suck out the old motor with a vacuum!
Heart removed
Keeping the old engine warm.
*** yea!
JDM YO!
#3 Pick nose!
Upgrade: The 05' 350z clutch works great. We also ordered a new Maxima flywheel.
The wrong injectors!
A new paint scheme for the 2017 Season!
04-25-2017, 08:30 AM
I'll try to get some more interior shots soon.
We had a great weekend at Road America. We still burn though 2 sets of brake pads per day. And they doc'ed us 10 laps at the start of each day. But we finished 15th Sat, and 14th Sunday - 5th in class.
https://www.facebook.com/media/set/?set=a.1900911586844989.1073741843.1547659225503562&type=3
---
Last edited by Mike - Bromance Racing; 04-25-2017 at

08:37 AM

.
08-01-2018, 10:11 AM
We had an awesome race on Sunday last week racing our 2002 Nissan Maxima! In the closing laps we passed an Miata and a Tran am to lock in 3rd place. 1st and 2nd went to a couple of BMW's
BTW, if you ever wanted to get into affordable endurance racing and hit the ground running.
Our car is for sale!
Here you can see some highlights of our car from the day 2 at Brianerd Int. Speedway!
">
" type="application/x-shockwave-flash" width="425" height="350">